This year's Japan Karate Association American Federation training camp at the University of New Orleans (UNO) featured guest instructor 8th Dan and general manager of the technical division Sensei Imura Takenori. There were about 80 participants for the four day camp, with nine representing JKA Nor Cal. Sensei Imura's crisp technical excellence and athletic prowess had everyone astonished. His sharp eye for details and sense of humor (for example: He picked out five people's yoi position in Bassai-dai and drilled us all on which four were wrong) really added to the educational value of this camp.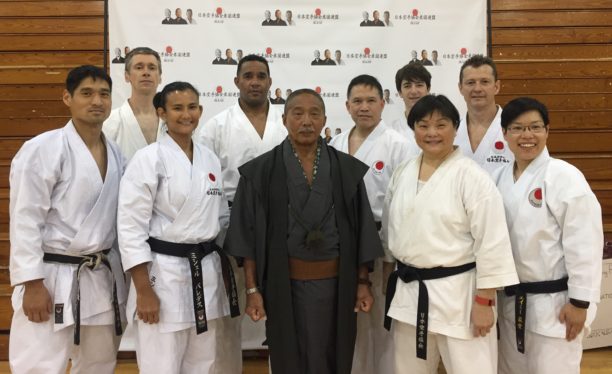 Sensei Imura covered basics – including a series of clever drills starting with open hand striking techniques and leading up to kumite – and drilled down to details and bunkai in kata. He also had a class specifically on judging kumite and kata matches. Sensei Mikami lead classes on ashi-barai, and kumite applications of sweeping and balance, and answered our questions with humor and depth. Every one of us learned and clarified many questions.
Sensei Mikami and Sensei Imura presided over the Dan exams and JKA qualification exams for instructor, judge and examiner. Our JKA NorCal instructors and students passed their dan exams and certification tests – congratulations to:
Christina Foo – Rokudan
Wauriman Borges – Yondan and JKA "C" Judge and "C" Instructor
John Sam – Yondan
Mathew Bittleston – JKA "C" Instructor and "D" Examiner
Amy Wong – JKA "D" Judge and "D" Instructor
Michelle Paredes – Nidan
Sean Kelley – Nidan
Ed Miranda – Shodan
Abdallah Batshon – Team note taker and Tournament Competitor
If you have any questions about the camp, talk to Abdallah: He took copious notes and will be teaching a class based on what we learned. Thanks again to Senpai Sean for arranging and coordinating AirBnB lodging and driving us about town; and to Senpai John (dojo chef) for another scrumptious meal. Now we can look forward to more dan parties!