Hope you are all well rested and from the holidays and ready for an exciting year ahead. We are back in full schedule of training at our dojo in Prime Time Athletic Club. Please do stop by and join us.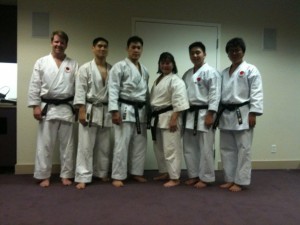 We started the year with 1st training of 2010 on 1/4/10 – an invigorating class and kicked off the 1st series of 12-week Conditioning Program (adaptation of PX90). John Sam's leading us in conditioning to keep us in shape through March and right in time for next tournament in Las Vegas for the Ozawa Cup (4/3). Join us for last half an hour after MWF classes 8:15-8:45pm.
So many programs are planned for this year. Check out our new JKA NorCal 2010 Calendar, click on Blog link to print the pdf copy for yourself to keep up to date on the events for the year and enjoy the photos from last year.
Our forthcoming Belt Promotion is on Saturday Jan 23rd (1pm) which is followed by our Little League (3:30pm). So exciting to see everyone progressing nicely and honing their skills! Also a bit of fun enjoying healthy competition during our Little League that introduces tournament to our kids twice a year (January and September) following our Kyu Tests.
We approach our JKA NorCal 1st Year Anniversary on Feb 1st, 2010. A productive and foundational year for our dojo – we will celebrate with Prime Time Karate Program students on Saturday Feb 6th (Noon) at our Joint Advanced Training followed by the presentation of new belts and party at the Cafe after class.
For the month of February, we are having Joint Advanced Training every Saturday at our 10-11:30am class to introduce our new higher belt students from Prime Time to advanced kata & kumite training with JKA NorCal Advanced belt students. Inspiring more mentoring, teaching and learning …
We will also be hosting a Self-Defense Class at the end of March (Tuesday 7:30-8:30pm) for all members in Prime Time to learn more about self-defense, martial arts and discipline of training.