Mark your calendar!  This year's JKA AF National Camp is going to be from June 3- June 6th at University of New Orleans, with guest instructor Kurasako Kenro Sensei from JKA HQ, along with our Chief Instructor, Takayuki Mikami Sensei.  It's going to be a GREAT camp, with training, qualification exams, dan exams, and more!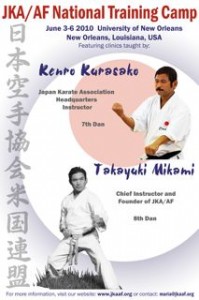 VENUE:
New Orleans, Louisiana
June 3rd:
Registration check in
Training from 6 pm till 8 pm
June 6th:
Events to end no later than 1 pm
(give or take a few minutes).
Dan test: up to Godan
Qualification exams: up to B judge, B instructor and C examiner.
For more information and to download the camp registration packet, please see JKA AF member site http://jkaaf.org/member/
So far, Sensei Khim, Christina, Hideaki and John Sam are going to this event.  If you are interested in coordinating travel plans.  Here is our flight itinerary:
Thu 6/3/10   AA548   6:00am  SFO  DFW  11:30am
AA1292   2:25pm  DFW MSY   3:50pm
Sun 6/6/10   AA 1575   7:00pm  MSY SFO  11:40pm